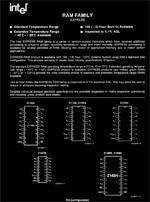 download Datasheet
Introduction date:
Technology:
Category:

History:

1974
P-channel silicon gate MOS technology
General Purpose byte Output port
The Intel 4207 is a part of the Intel MCS-40 family. It has
two 4-Bit output ports loaded under program control.
Contains the output data word(s). One 4 Bit output
port as a control source to steer data and control I/O
device. One 4-Bit input port for I/O status input data.