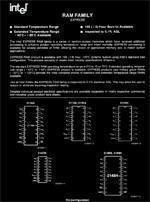 Download Datasheet
1702
Introduction date:
Technology:
Category:
Memory:
Max. access time:
Nom. Supp:
Program Voltage:

History:


1972
P-channel silicon gate MOS technology
Static Erasable Programmable Read Only Memory
256 x 8-bit
750 ns
+5V and -9V
up to -48V

The 1702 was Intel's first official EPROM. The 1702, 4702 & 8702 share the same core. This EPROM's were produced up to the middle of the 80īs.